Friday, April 6, 2012

Architizer Blog - Seeing Double: The Collective Snapshot - Some very interesting and lovely photography here using an unusual effect. The Opera Houseu one is nice, but I think the Colosseum is my favorite. Favorited today on Twitter:You can follow me here.

Thursday, April 5, 2012

Shared today on Instagram: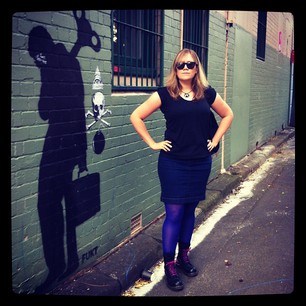 Feeling superhero-ish, like a grown-up Hit Girl.

Powered by Webstagram Favorited today on Twitter:You can follow me here.

Wednesday, April 4, 2012

Favorited today on Twitter:You can follow me here.

Tuesday, April 3, 2012

It's official, folks. Yours truly has finally broken out of the "Highly Commended" ghetto with a SECOND PLACE ribbon at the Easter Show for my Rhiannon socks! It feels... anticlimactic. And what's up with that display? I blocked those socks to perfection, and there they stand (!) all lumpy and wrinkled and weird-looking. I guess maybe they were trying to show off the front cable? I'm told that overall the displays are a much higher quality this year, but that my socks were one of the few sour notes. Sadly, Bokaclava and Sam Sawnoff didn't win any prizes, but I didn't really expect them to. (I had hoped that Bokaclava would be displayed on a dummy head! Alas, not..)

I'm working the Knitters Guild stall at the show this Saturday afternoon, so feel free to pop in and say hello! Kinect Star Wars
Dear Mr. Snook: WE NEED THIS. NOW. (Link courtesy of kottke.)

Cake It To The Limit - An ambitious project to make every cake in the Women's Weekly Birthday Cake Book. The Snook is going to love this... How to use fancy gestures on the iPad (and why you should) - Apple News, Tips and Reviews - WHOA. I didn't know any of these! Favorited today on Twitter:You can follow me here.

Monday, April 2, 2012

Favorited today on Twitter:You can follow me here.

Sunday, April 1, 2012

Shared today on Instagram: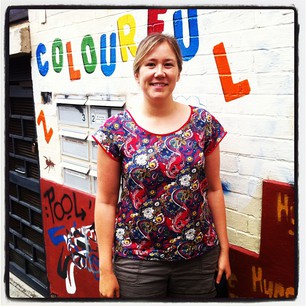 I sewed myself a new shirt today! #crafty

Powered by Webstagram

Edited to add: This is the Colette Sorbetto, a free PDF pattern. I modified it by leaving off the front pleat and adding some sleeves. The fabric is a Liberty Tana Lawn I bought last year. I'm still learning, so simple tops like this give me plenty of practice. I think this one will get some wear! Earn Your Stripes Quilt Blocks
Quilting took a back seat for a few weeks as I frantically finished all my Easter Show projects. Finally today I got a chance to put together the March MetaQuilter blocks. Amelia was the designer this month, and her quilt is the Earn Your Stripes quilt from Block Party: The Modern Quilting Bee. These were fairly free form, and I had fun playing with the beautiful fabrics she sent. I'll be posting these off tomorrow...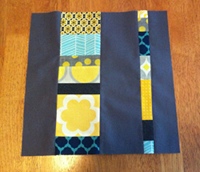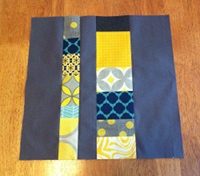 Shared today on Instagram: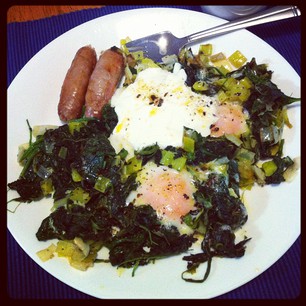 Sunday breakfast: Skillet-Baked Eggs w/ Spinach, Yogurt, & Spiced Butter. YUM.

Powered by Webstagram

Edited to add: The recipe is here. Favorited today on Twitter:You can follow me here. Shared today on Instagram: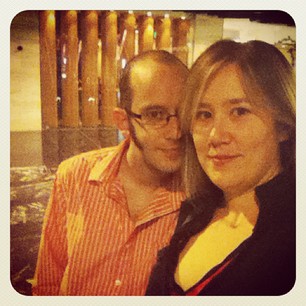 Happy anniversary to my best friend! 12 years down. Bring on the bakery's dozen!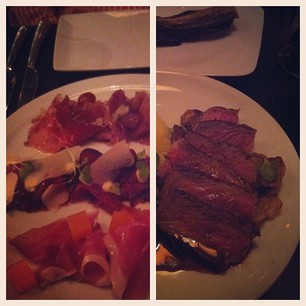 Primal dinner at Quarter 21! Impending meat coma...

Powered by Webstagram

Saturday, March 31, 2012

Shared today on Instagram: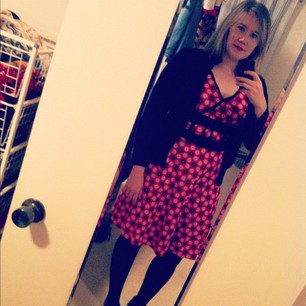 Big night... again. I wish I knew how to use makeup...

Powered by Webstagram You Can't Handle The Hottest Doctor Who Fashions of 1984 - I feel like I might actually have this book somewhere. I hope so. It looks awesome. Sydney Lineposter Screen Print Light Brown/White by lineposters - Nice. Just realized that with the fam visiting in a few months, I can get them to courier some things to us! This is going on the list... Favorited today on Twitter:You can follow me here. previous week

welcome
I'm Kris Howard, a thirtyish Hoosier living in Sydney, Australia. I'm the TV Development Director at Mi9, working with my team on cool stuff like 9jumpin. I knit and sew and have crazy adventures. This is my weblog and personal site.
recent comments
Jude Webster: "Hi, I know this is a really old post, but I came across it when looking for some references to hei..."
Emily: "Clare had a handpresso a couple of years ago, and has moved on to the Aeropress after handy broke. S..."
Erin: "I've always put sugar in cornbread, because my mother's ancient copy of the Fannie Farmer cookbook s..."
The Snook: "Usually to be included in these things a company has to pay, or spend a lot of time preparing a subm..."
gilmae: "Don't suppose you want a crockery hutch..."
TOAST: "These people should all be taken out and shot. Twice. In the head. At point-blank range. With a ..."
TOAST: "Be aware of this method. It's genius. I found a rusted out grill-pan in my basement. Scrubbed it wi..."
carolbaby: "You totally should! They're just brilliant and surprisingly little hassle - to clean fill with boili..."
[see last 50 comments]
knitting (in progress)
recent craft projects
» Hawaiian Negroni
» Out-of-this-World Washi Dress
» Melbourne Cup 70's Dress
» Heisenberg Blue Cupcakes
» Negroni Shirt for Mr Snook
[see all crafts]
currently reading
» Influence: The Psychology of Persuasion by Robert B. Cialdini
weblogs
a room of my own
Amanda Palmer
Anton Emdin Illustration & Cartoons
Carbo-Mobile
Daring Fireball
defective yeti
Divine Comedy of Errors
Get Rich Slowly
Ghost in the Machine
Gift and Mystery
Girls of a Certain Age
Grab Your Fork
jlcfyi
jp knit 'n' natter
Just Ask Christopher
Ken Jennings Blog
knitabulous
Krisalis
Lemon-Lime
Little Tiny Hangers
Lots of Co.
miftik
missfee
Neil Gaiman's Journal
not martha
PomPom
Pop Culture Junk Mail
Random Knits
Rose Red
Scrubbles
sh1ft.org
Shades of Grey
smitten kitchen
Sore Eyes
Subversive Anarchic Lesbian Femme
The Simple Dollar
Tom&Lorenzo
Waiting is my favorite!
Witty Knitter
yogaknitdra