Monday, May 7, 2012
Meringue Skirt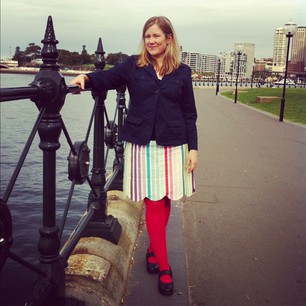 Squinting on a cloudy day in my new Meringue skirt!

So this is my Meringue Skirt! This was a very quick and (relatively) easy project. The fabric is ANNBETH from IKEA, and it's a nice sturdy cotton. Despite my continued lack of an invisible zipper foot, I think this is my best zipper yet. (Of course, it took me like three tries because I kept sewing it on the wrong side of the garment.) The instructions for sandwiching the zipper in between the waist facing were brilliant. I mean, I had no idea what I was doing at the time, but I followed the instructions religiously and trusted that when it came time to flip it right-side out, it would work -- and it did! The scallops around the bottom are the defining feature, of course, and they're trickier than they look. I'm not 100% happy with how the hem facing sits, but I did my best and I know what to do better next time. The only real problem with the skirt is that it's TOO BIG! Once again I sewed a size 16 out of fear I wouldn't fit the 14, and now I'm swimming in it. So I'm going to have to figure out how to take it in a little bit. But overall, I feel like this is my best executed project yet!



I posted a sneak peek on Facebook a week ago and my high school geography teacher commented that it looked like an AWNING. So now that's all I can see when I look at it. IT'S AN AWNING. THANKS, MR. SCHMIDT.

5 Scientific Explanations for Game of Thrones' Messed-Up Seasons - Neat! I had no idea that such a thing was actually plausible.

Sunday, May 6, 2012

Favorited today on Twitter:You can follow me here.

Saturday, May 5, 2012

Shared today on Instagram: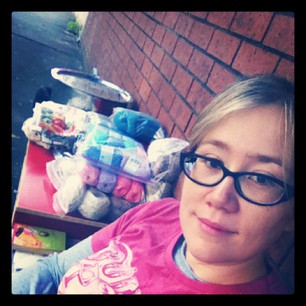 Manning the world's tiniest garage sale. #garage2012

Powered by Webstagram If Apple Designed a Bike Light, It Would Look Like This | Wired Design - Aww, what will the Brooklyn bike hipsters think up next? This is very cool. Too bad it's only for the rear light. Favorited today on Twitter:You can follow me here.

Friday, May 4, 2012

Shared today on Instagram: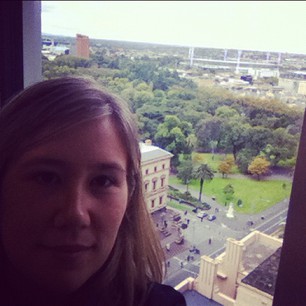 All I could think was that @kunaal84 would *kill* for this office.

Powered by Webstagram

Thursday, May 3, 2012

Shared today on Instagram: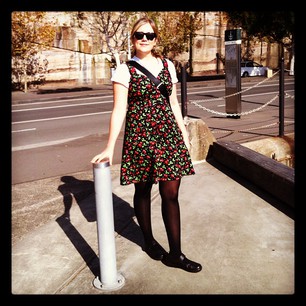 It amused me to wear a homemade dress to work when Sydney Fashion Week is happening just a few blocks away!

Powered by Webstagram Giant crocheted lions created as part of the UK's "Cultural Olympiad". THAT'S INSANE. I can't believe she did it by hand! I'd like to see more photos of the creation process.

Also, she got HALF A MILLION POUNDS for that. Clearly, my aversion to crochet is misplaced. (Link courtesy of my Mom.)

Wednesday, May 2, 2012

Sweet! How to Make a Chocolate iPhone - Brit & Co. - Super cute! Favorited today on Twitter:You can follow me here. previous week

welcome
I'm Kris Howard, a thirtyish Hoosier living in Sydney, Australia. I'm the TV Development Director at Mi9, working with my team on cool stuff like 9jumpin. I knit and sew and have crazy adventures. This is my weblog and personal site.
recent comments
TOAST: "Be aware of this method. It's genius. I found a rusted out grill-pan in my basement. Scrubbed it wi..."
carolbaby: "You totally should! They're just brilliant and surprisingly little hassle - to clean fill with boili..."
Kris: "Oh, thank you Lyn! :)..."
LynS: "...and you are one of the most polite people I know...."
John: "As my iPod Touch is a WiFi only model, for most of my typical weekday the Todoist web site would be ..."
Kris: "Whoops! Fixed! (You can probably still use the web version on your iPod Touch though. It scales down..."
John: "Just a quick note to point out that the link to the Todoist site is broken. (Sadly it turns out that..."
DrK: "Yay :)..."
[see last 50 comments]
knitting (in progress)
recent craft projects
» Hawaiian Negroni
» Out-of-this-World Washi Dress
» Melbourne Cup 70's Dress
» Heisenberg Blue Cupcakes
» Negroni Shirt for Mr Snook
[see all crafts]
currently reading
» Influence: The Psychology of Persuasion by Robert B. Cialdini
weblogs
a room of my own
Amanda Palmer
Anton Emdin Illustration & Cartoons
Carbo-Mobile
Daring Fireball
defective yeti
Divine Comedy of Errors
Get Rich Slowly
Ghost in the Machine
Gift and Mystery
Girls of a Certain Age
Grab Your Fork
jlcfyi
jp knit 'n' natter
Just Ask Christopher
Ken Jennings Blog
knitabulous
Krisalis
Lemon-Lime
Little Tiny Hangers
Lots of Co.
miftik
missfee
Neil Gaiman's Journal
not martha
PomPom
Pop Culture Junk Mail
Random Knits
Rose Red
Scrubbles
sh1ft.org
Shades of Grey
smitten kitchen
Sore Eyes
Subversive Anarchic Lesbian Femme
The Simple Dollar
Tom&Lorenzo
Waiting is my favorite!
Witty Knitter
yogaknitdra