Tuesday, May 22, 2012

Cupcakewurst - DEAR GOD, this is going straight to the top of the ooky Halloween foods list! Favorited today on Twitter:
wheelyweb: Feeling the Monday blah? Cheer up by booking in #webblastSYD, may31, generously sponsored by @CampaignMonitor @MSAU & @StamfordUX
You can follow me here.
Monday, May 21, 2012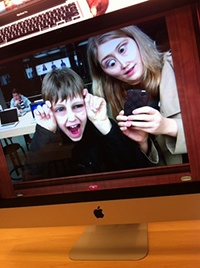 Jamie's Italian
We had a special visitor on the weekend! Our nephew Kurt recently turned 12 so he came over for a sleepover. Knowing that his favourite food is Italian, I thought we might check out the new Jamie's Italian in the city. It's the first Australian location for Jamie Oliver's chain of family-style restaurants. It opened late last year but I was hoping the hype would have died down by now. They don't take bookings, so we turned up on Saturday night at 6pm hoping for a table. The nice host explained that we were looking at a wait of nearly two hours. I turned to Kurt, leaving the decision up to him. He was happy to wait. So we gave the guy my mobile number and then headed off to do some window shopping. As you might have guessed, we ended up at the Apple Store. :)

At 7:30 we headed back to the restaurant and perched ourselves near the bar waiting for our table. The host was still telling incredulous newcomers that it was a two hour wait, so we weren't the only ones making that mistake. Eventually we got seated and quickly placed our order. (We had plenty of time to look at the menu while we were waiting!) We ordered some olives and parmesan to start, then all three of us had pasta as mains: Truffle Tagliatelle for me, Spaghetti Bolognese for Kurt, and Risotto Milanese (with Roasted Bone Marrow) for the Snook. We also split a Rocket & Endive salad between us. Service was very prompt, and we didn't have to wait long for the food at all. Which was good - because we were hungry!

I wish I could say that the food was worth the wait, but it probably wasn't. However, it was definitely worth the cost which was extremely reasonable. My tagliatelle definitely had an aroma of truffles and a slice of one on top, but in terms of flavour it was mostly just butter. (Not that there's anything wrong with that.) Kurt really enjoyed his spag bol and pronounced everything "beautiful". The Snook felt his risotto didn't have a lot of saffron in it, but given that it was on the table in under 20 minutes he thought it was pretty good. Quantities were decent and all of us left satisfied. I'd definitely go back, but not if it involved such a long wait. (Pro Tip: they do take bookings for parties of 6, so next time I'll get a group together!)

We finished the birthday party back at home with ice cream and flourless chocolate cake from Bourke Street Bakery. There was plenty of Guitar Hero, Doctor Who, Ghostbusters, and iPad gaming. It's always fun when Kurt comes to visit!

Sunday, May 20, 2012

Favorited today on Twitter:You can follow me here.

Saturday, May 19, 2012

Shared today on Instagram: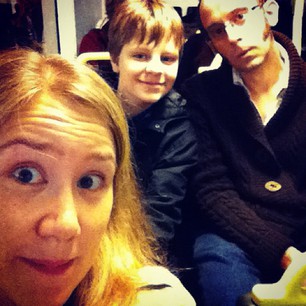 Three silly people on the bus to the city!

Powered by Webstagram Shared today on Instagram:



Spotted near Broadway. "Should we get one?" "Dude, it's our DESTINY."

Powered by Webstagram How to Not Kill a Cyclist - The Morning News - Matthew Baldwin (from Defective Yeti) gives good tips for both cyclists and drivers alike. Please read them. The Disappearing Double Chin Trick for Portrait Photography - Dear Snookums: Please watch this and then use it every time you take a photo of me from this day forward. Favorited today on Twitter:You can follow me here.

Friday, May 18, 2012

Shared today on Instagram: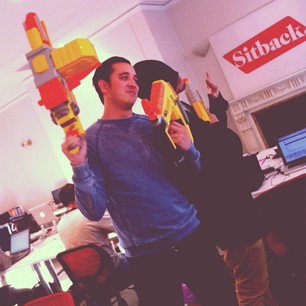 Just your average Friday afternoon.

Powered by Webstagram Shared today on Instagram: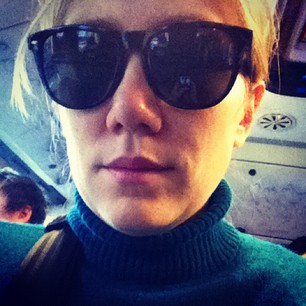 Turtleneck and dark sunnies. I am European royalty incognito...

Powered by Webstagram

Thursday, May 17, 2012

Shared today on Instagram: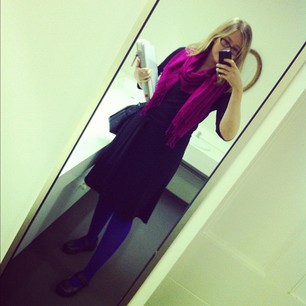 Went for a sort of funky librarian look today. #colouredtightsprotest

Powered by Webstagram Bicycle Repair: Keep it Quiet. A guide to tracking down mysterious noises from your bicycle. Very useful! (Thanks Snook.) Favorited today on Twitter:You can follow me here. previous week

welcome
I'm Kris Howard, a thirtyish Hoosier living in Sydney, Australia. I'm the TV Development Director at Mi9, working with my team on cool stuff like 9jumpin. I knit and sew and have crazy adventures. This is my weblog and personal site.
recent comments
deadgar: "Where's your source then?..."
Staci: "I love this!..."
Emily: "Hey, and watch "Punk Singer" about Bikini Kills' Kathleen Hanna - apparently it's on Netflix......"
carolbaby: "/delurking/ HolyGoodness! Thanks for posting this. I've spent way too much of my life lurking on met..."
Bex: "Word...."
Kristen: "This. Ugh. I get so annoyed that this is still a real thing. It's 2014. Shouldn't we be beyond this ..."
M-H: "I love Arizona! I've been to Sedona too. A bit woo-woo when I was there (nearly 20 years ago). I'm e..."
M-H: "I love Arizona! I've been to Sedona too. A bit woo-woo when I was there (nearly 20 years ago). I'm e..."
[see last 50 comments]
knitting (in progress)
recent craft projects
» Hawaiian Negroni
» Out-of-this-World Washi Dress
» Melbourne Cup 70's Dress
» Heisenberg Blue Cupcakes
» Negroni Shirt for Mr Snook
[see all crafts]
currently reading
» Influence: The Psychology of Persuasion by Robert B. Cialdini
weblogs
a room of my own
Amanda Palmer
Anton Emdin Illustration & Cartoons
Carbo-Mobile
Daring Fireball
defective yeti
Divine Comedy of Errors
Get Rich Slowly
Ghost in the Machine
Gift and Mystery
Girls of a Certain Age
Grab Your Fork
jlcfyi
jp knit 'n' natter
Just Ask Christopher
Ken Jennings Blog
knitabulous
Krisalis
Lemon-Lime
Little Tiny Hangers
Lots of Co.
miftik
missfee
Neil Gaiman's Journal
not martha
PomPom
Pop Culture Junk Mail
Random Knits
Rose Red
Scrubbles
sh1ft.org
Shades of Grey
smitten kitchen
Sore Eyes
Subversive Anarchic Lesbian Femme
The Simple Dollar
Tom&Lorenzo
Waiting is my favorite!
Witty Knitter
yogaknitdra