Sunday, September 2, 2012
Shared today on Instagram: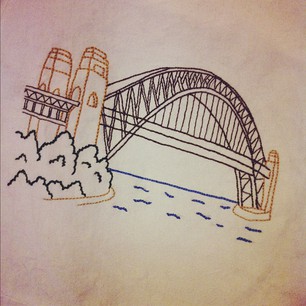 Another embroidery finished. This quilt is gonna be awesome.

Powered by Webstagram

Saturday, September 1, 2012

Shared today on Instagram: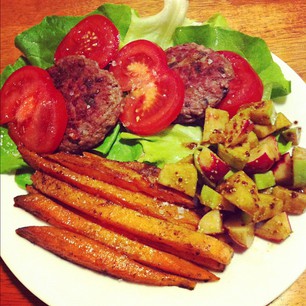 Dinner tonight: @nomnompaleo's Big-O Bacon Burgers, Sweet Potato Fries, and Crunchy Radish Salad. #paleo

Powered by Webstagram Shared today on Instagram: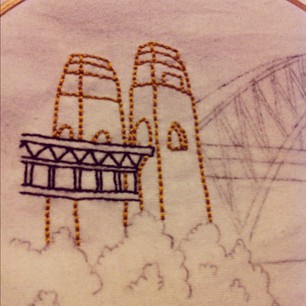 More embroidery is happening...

Powered by Webstagram Shared today on Instagram: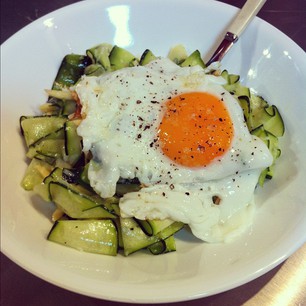 Lunch: Zucchini Ribbon "Pasta" with Fried Egg & Pecorino. Recipe here: http://www.seriouseats.com/2012/08/zucchini-ribbon-pasta-with-fried-egg-and-peco.html #paleo #yum

Powered by Webstagram

Friday, August 31, 2012

Woohoo! In case you missed my tweet, the GIMP is now available as a native Mac application. I downloaded and installed this morning, and I'm thrilled to report that it fixes every one of my complaints about the old version (which required X11). It looks nicer and more Mac-like; the shortcuts all use CMD instead of CTRL; and you don't have to click on each window to change focus. If you use GIMP on a Mac, I highly recommend installing this one.



For those who don't know, the GIMP is an Open Source image editing program. Basically, it's Photoshop but it's free instead of hundreds of dollars.

Favorited today on Twitter:
maninultimo: I like Macca's. But the new Lamb burger I had for lunch was genuinely gross. #nondescriptmush #leftlyingaround @mcdonaldsau
lif_au: GIMP Now Available As A Native App For Mac - http://t.co/FU302dmH
You can follow me here.
Thursday, August 30, 2012
Shared today on Instagram: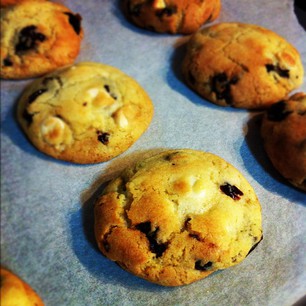 Eventually I will stop feeling guilty about missing @kunaal84's wedding. In the meantime, he's gonna get fat.

Powered by Webstagram Gender Differences in Fat Metabolism - Interesting. I have noted several times now that when I lose weight, it tends to come off my upper body (around the rib cage) first. And no matter what I do, I can't seem to slim down my chunky thighs. It's also very evident that my body tends to hold on to weight in general a lot more than the Snook's. (His belly is almost gone!) MDA makes the case that this is natural and, if anything, means that my body is probably pretty healthy. Shared today on Instagram: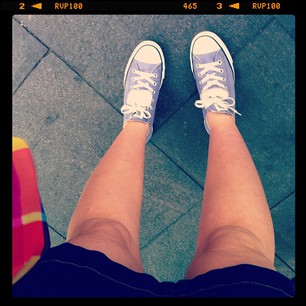 My bare knees decided - calendar be damned - it's Spring! Unfortunately the fresh ocean breeze disagrees.

Powered by Webstagram Favorited today on Twitter:
crumpet: An owl. The only proper use for cantaloupe. http://t.co/whizyuUH
mathowie: The guy that invented the ChocoTacoTM should get a Nobel prize. Not right away, but maybe if there's a slow year he could be thrown in there.
You can follow me here.
Wednesday, August 29, 2012
Shared today on Instagram: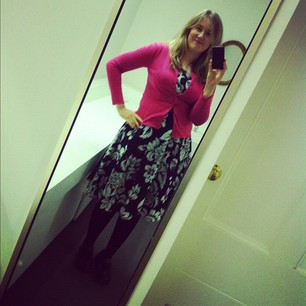 I'm conducting training today so I was aiming for "Competent Teacher." I think it ended up more "Zooey Deschanel."

Powered by Webstagram showing a remastered print of Raiders of the Lost Ark followed by a Q&A with John Rhys-Davies! And we're going. YAY! previous week

welcome
I'm Kris Howard, a thirtyish Hoosier living in Sydney, Australia. I'm the TV Development Director at Mi9, working with my team on cool stuff like 9jumpin. I knit and sew and have crazy adventures. This is my weblog and personal site.
recent comments
Donna: "I hope you got the floral one!..."
Emily: "In England the answer is not to put them in the fridge - I think we have crappier fridges and cooler..."
Jude Webster: "Hi, I know this is a really old post, but I came across it when looking for some references to hei..."
Emily: "Clare had a handpresso a couple of years ago, and has moved on to the Aeropress after handy broke. S..."
Erin: "I've always put sugar in cornbread, because my mother's ancient copy of the Fannie Farmer cookbook s..."
The Snook: "Usually to be included in these things a company has to pay, or spend a lot of time preparing a subm..."
gilmae: "Don't suppose you want a crockery hutch..."
TOAST: "These people should all be taken out and shot. Twice. In the head. At point-blank range. With a ..."
[see last 50 comments]
knitting (in progress)
recent craft projects
» Hawaiian Negroni
» Out-of-this-World Washi Dress
» Melbourne Cup 70's Dress
» Heisenberg Blue Cupcakes
» Negroni Shirt for Mr Snook
[see all crafts]
currently reading
» Influence: The Psychology of Persuasion by Robert B. Cialdini
weblogs
a room of my own
Amanda Palmer
Anton Emdin Illustration & Cartoons
Carbo-Mobile
Daring Fireball
defective yeti
Divine Comedy of Errors
Get Rich Slowly
Ghost in the Machine
Gift and Mystery
Girls of a Certain Age
Grab Your Fork
jlcfyi
jp knit 'n' natter
Just Ask Christopher
Ken Jennings Blog
knitabulous
Krisalis
Lemon-Lime
Little Tiny Hangers
Lots of Co.
miftik
missfee
Neil Gaiman's Journal
not martha
PomPom
Pop Culture Junk Mail
Random Knits
Rose Red
Scrubbles
sh1ft.org
Shades of Grey
smitten kitchen
Sore Eyes
Subversive Anarchic Lesbian Femme
The Simple Dollar
Tom&Lorenzo
Waiting is my favorite!
Witty Knitter
yogaknitdra